CrazyLabs, the top #3 mobile games developer and publisher, revealed today it passed the imaginary number of
4 billion game downloads.
The news was released as part of the announcement of a 5th location for CrazyLabs' hyper-casual gaming accelerator, officially known as CrazyHubs, in Warsaw, Poland. The latest addition to the company's global training program, after India, Israel, Turkey and Serbia, comes as no surprise to insiders who follow the mobile gaming industry. Read more about the news in Pocketgamer.biz.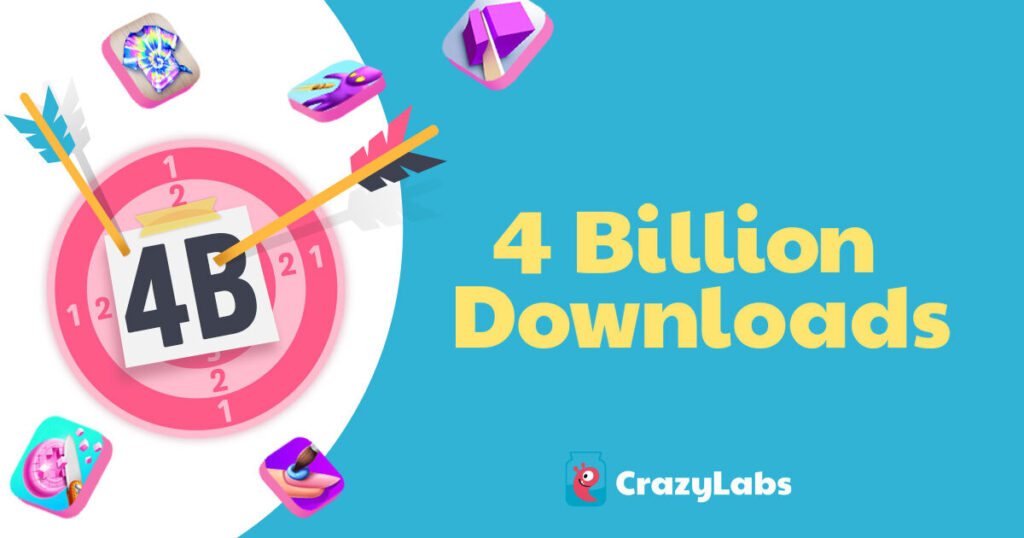 For CrazyLabs, 2020 was a year at top speed. "We saw ~1B downloads for CrazyLabs' mobile games in 2020 alone. This exceeded the analysts expectations", shared Sagi Schliesser, CrazyLabs Founder and CEO. According to Sensor Tower, hyper-casual game downloads accounted for one-third (31%) of all game downloads in 2020. CrazyLabs teams around the world continued to work tirelessly, releasing #1 titles like Tie Dye (90M downloads), ASMR Slicing (80M downloads), Acrylic Nails (60M downloads) and the recent release of Phone Case DIY (60M downloads).

"Once we realized the demand for real knowledge in the field of hyper-casual game development, we decided to create our first CrazyHub" recalls Shcliesser. The hyper-casual gaming accelerator was initially launched as a virtual initiative in Mumbai, India, and as a physical hub in Tel Aviv, Israel. The success of the two prompted CrazyLabs to expand this initiative even further.  While the 2nd batch of gaming studios recently started their training program in the Israely hub, the company has already decided to expand even further, and is expected to finish 2021 with 8-10 hubs worldwide. In the past few weeks CrazyLabs opened registration for CrazyHubs in Istanbul, Turkey, in Novi Sad, Serbia, and also added a new hub in Warsaw, Poland.
"We now have over 350 partners and gaming studios around the world" shared Schliesser, "but with CrazyHubs' hyper-casual training program and bootcamp for developers and gaming studios, we expect to increase that amount significantly".
CrazyLabs also invites hyper-casual game developers to take on development challenges for monetary rewards. New challenges are now introduced on a monthly basis, for example – inviting studios to submit a test for a hyper-casual narrative game and win unlimited prizes. Once your game idea is approved for testing, you get $500 in cash, and if you pass the company's benchmarks, you can get up to $50,000. Studios with approved tests are qualified for CLIK Dashboard membership – CrazyLabs' self-serve platform for testing hyper-casual games with full transparency. Read more about the latest challenge by CrazyLabs.