Why Publish Your Next Game With Us 
CrazyLabs is a top 5 mobile games developer and publisher with over 5 billion downloads to date and over 250 million monthly active players in both hyper-casual and casual games – it's safe to say that we have the proven capabilities to make top-chart games. 
We are a dedicated team of over 300 pros ranging from publishing, product, game ideation, and design experts to provide you with everything you need to create your next big hit game. Check out below why you should publish your next game with CrazyLabs, and how we work with game developers.
Why CrazyLabs? 
Massive Support – Our publishing team is renowned in the hyper-casual gaming industry for our unparalleled dedication, close mentorship, fast support, and feedback to take your game to the big leagues.
"We've collaborated with many top publishers, and what made CrazyLabs stand out was their exceptional, fast support while giving us the space to push the boundaries of our creativity and experimentation. Through this approach, we've already built two-hit games." 
Mario Royston, CEO of Weloadin (the studio behind Dessert DIY)
We embrace the concept of knowledge sharing to help developers become the very best and create hit games. As such, we share with our developers as many resources as possible like successful case studies and our exclusive trend reports. This comprehensive report touches on all aspects of hyper-casual games including market analysis, social trends, prototypes, and more.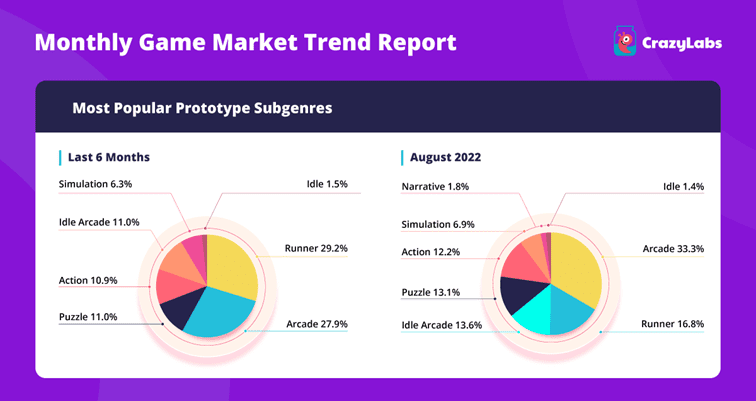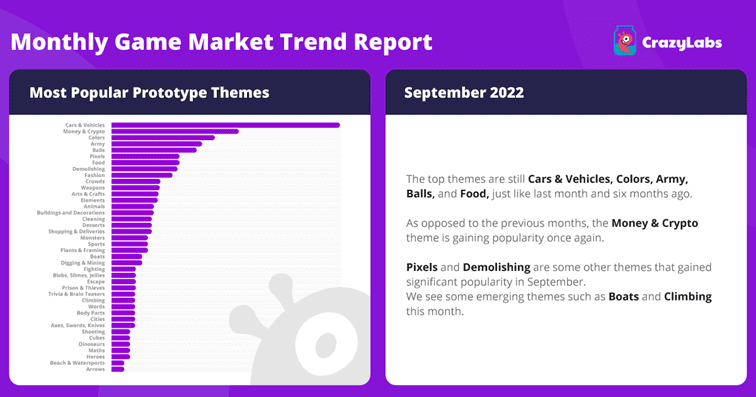 Market Leader in Transparency – CrazyLabs' CLIK dashboard enables you to stay up to date on your game's marketability tests, revenue breakdown, A/B tests, and creatives' performance all in real-time. Specifically, it tracks crucial testing metrics in real-time on Google Play, IOS, Facebook, and TikTok. CrazyLabs' dashboard is the only one in the industry, which can also be accessed on mobile.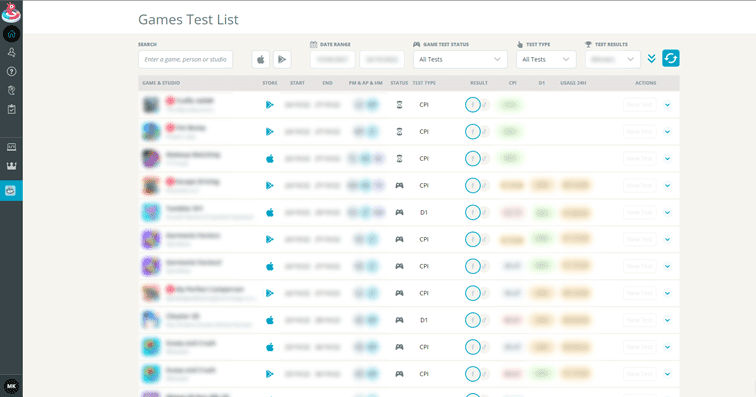 Giving Your Game a Chance (beyond CPI) – There are no specific CPIs or retention goals that you have to achieve in order to publish your game. We look at a range of metrics like Day 1 and 24-hour playtime when testing your game's marketability. 
As an example, in the game Multi Maze, the initial CPI was $0.76, however, Day 1 was over 50%, and playtime was over 50 minutes and so we worked with the developer to lower the CPI. Ultimately, the game ended up becoming a massive success.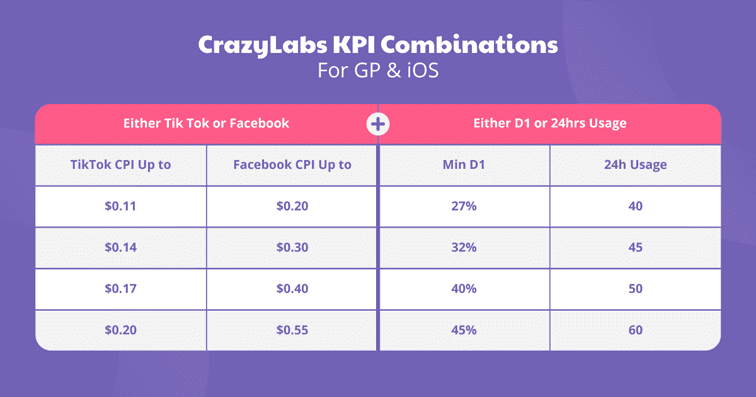 Make $ Even If Your Game Didn't Make it to The Top Charts – Once your game passed the key testing stages, yet failed to scale – your game can still be published and you can enjoy an additional revenue stream. 
Access A Creative Ideation Team – We have a dedicated ideation division to help you generate (and even provide you with) proven successful game ideas based on our internal data and extensive testing. For example, we gave one of our developer's the idea concept (backed by our research and promising marketability testing results) for the hit game Makeup Kit Color Mixing. This game ended up reaching #1 in both Google Play and IOS for a few weeks. 
"The driving force behind Makeup Kit's stunning success was CrazyLabs' initial strong trend-based idea, and for this, I'm very thankful for CrazyLabs giving me this idea.
Their creative team discovered this makeup trend earlier than any other publisher, and together we worked very fast to stay first." 
Alex Petrus, CEO of Fontes Sp. z o.o., (the studio behind Makeup Kit)
Dominate premium gaming platforms – CrazyLabs' can grow your game's exposure and make it available on leading gaming platforms like Xbox, Playstation, and Steam PC Games. Today, our games Run Sausage Run and Sausage Wars are available on all of these platforms.
Publishing Process 
The publishing process with CrazyLabs is seamless and transparent. You first need to submit your game concept preferably via video through our website. If your game idea is approved, you'll receive feedback from our publishing team on how to further refine your game, and you'll receive access to our CLIK dashboard for initial testing. 
Should your game achieve strong KPIs during testing, then we'll provide you with a dedicated team (entailing publishing managers, game designers, acquisition experts, and more) to continue improving your game's average revenue per user (ARPU) and retention so that we can scale your game.  
Develop Your Next Game Hit with CrazyLabs Today