Artificial Intelligence has revolutionized the gaming industry, enabling developers to create immersive and engaging experiences for mobile gamers faster than ever. Rapid advancement of AI technology and more relevant, Generative AI technology, game developers now have access to a wide range of powerful tools that can streamline their workflows and enhance the quality of their games. 
It's important to note that new game development tools are being released daily, so what's relevant today may become outdated in just three months. Below, we present some interesting use cases of some of the recent Gen AI tools you can find selected by Nir Miretzky, Director of Innovation. 
5 AI tools for mobile game developers
Skybox
Skybox is an AI tool specifically designed for creating visual effects and realistic environments in mobile games. This tool (referred to as text2Skybox in the industry) utilizes machine learning algorithms to generate dynamic and visually appealing skies, landscapes, and backgrounds. With Skybox, you can create game scenery, vibrant day-night cycles, and even realistic weather effects. The tool's user-friendly interface and massive library of pre-built filters make it a valuable asset for both beginner and experienced game developers.
For example, we used Skybox to generate the "Space Beach Skybox" for our Tie Dye Kiosk. The steps we took to achieve the final product were as follows:
We generated the space beach background image in Skybox.
Next, we selected the scene from Tie Dye where we wanted to update the background.
Finally, we combined the images from the first two steps.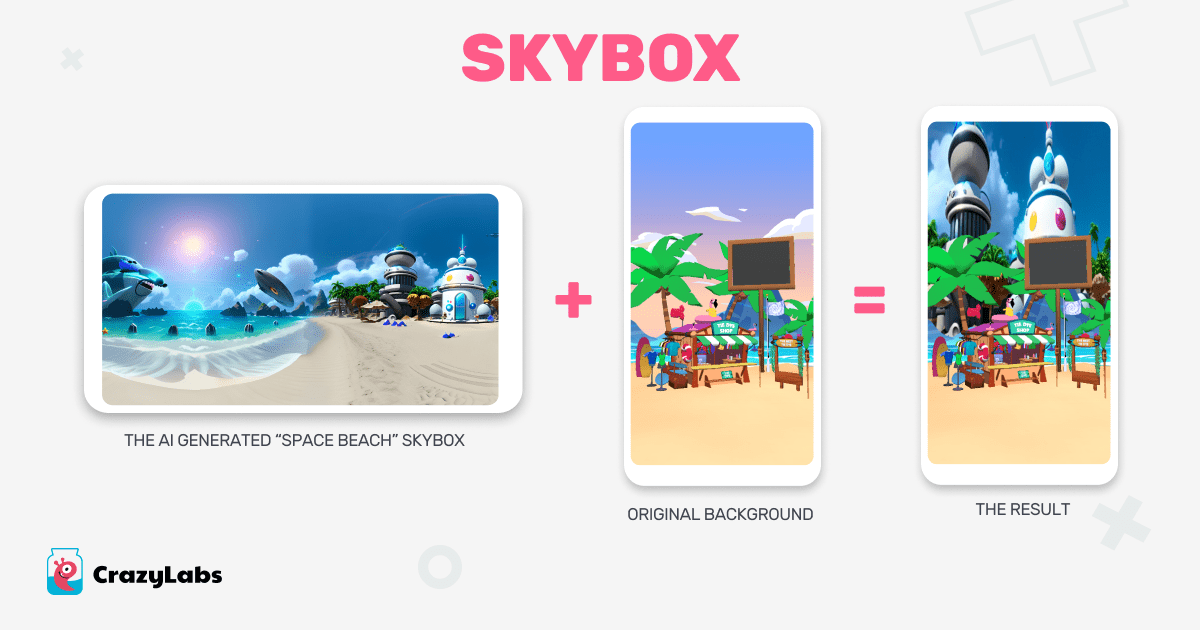 Runway (Gen 2)
Runway is an advanced Generative AI platform that offers a wide range of tools for various creative purposes. Specifically, the Gen 2 version uses advanced AI models that can help you generate high-quality character animations, textures or design interactive interfaces.
For example, we used Runway to generate different types of textures for the tie-dye shirts below. The steps we took to create the final product were as follows:
We generated the below textures like velvet, blood, coffee, and tie dye textures in Runway.
We then added the generated textures to the tie-dye shirts.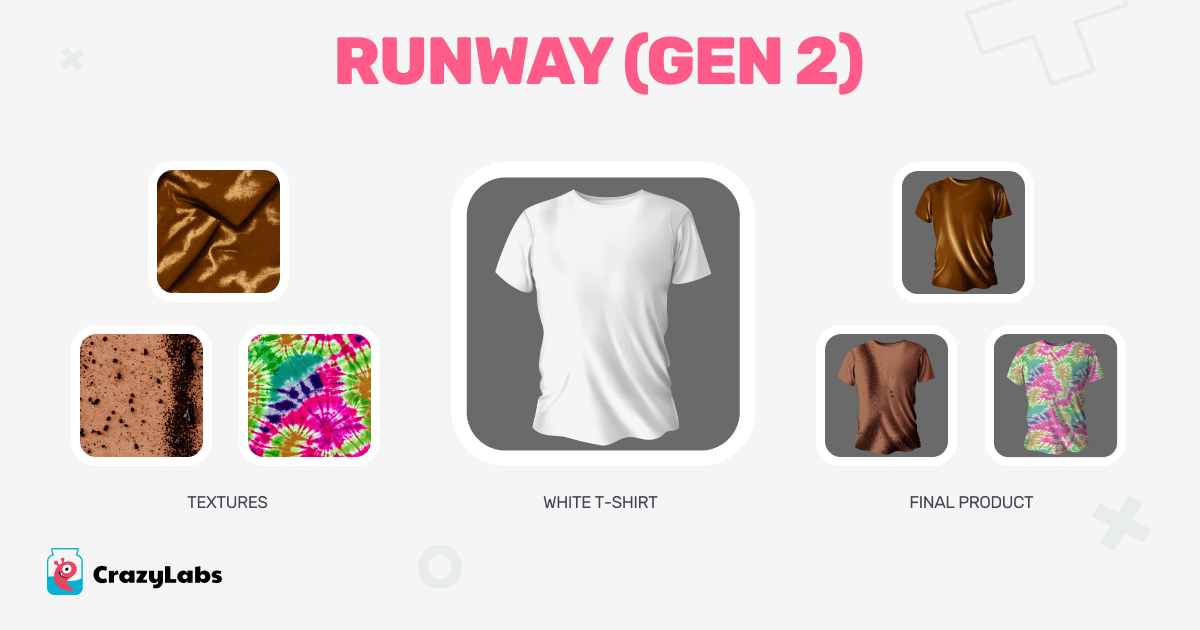 Scenario
(for Game Assets)
Scenario is an AI-powered asset creation tool specifically tailored for mobile game developers. It utilizes deep learning algorithms to generate high-quality and diverse game assets, including characters, objects, and environments. With Scenario, you can easily generate customized assets that fit your game's art style. The tool's ability to adapt and learn from user preferences ensures a steady supply of fresh and creative assets, potentially saving you loads of time while reducing your costs.
For example, we used Scenario to train our own AI model with one of CrazyLabs' hit games, Paper Doll DIY, featuring 2D characters. We then instructed the program to generate new 2D characters wearing army uniforms, as well as circus, chef, and doll-themed outfits.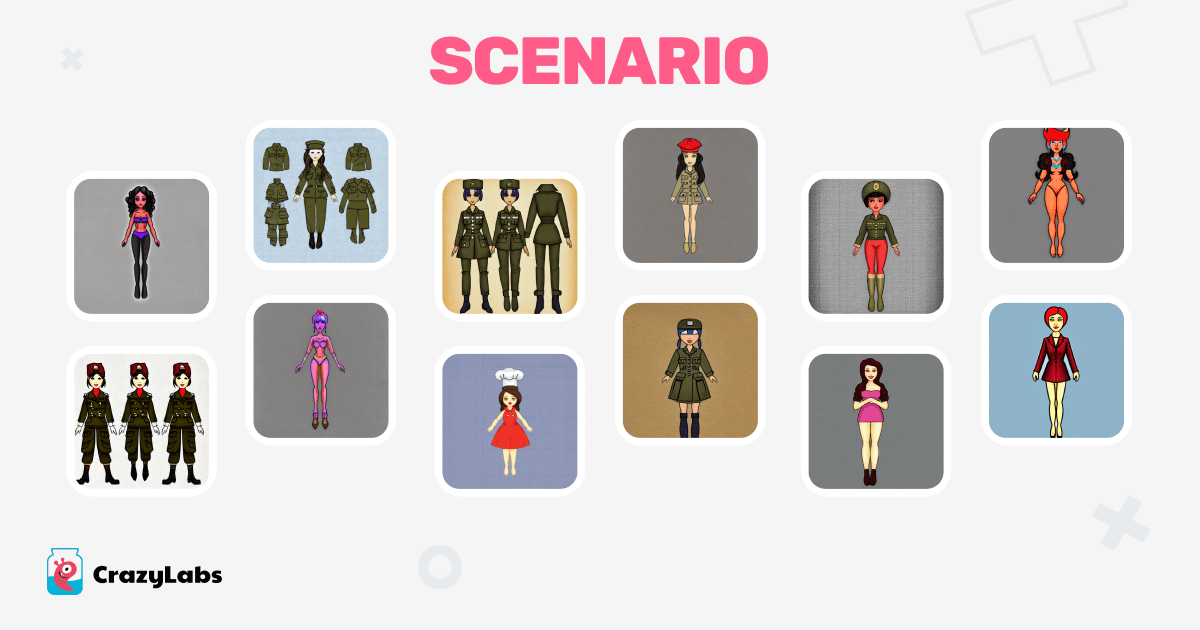 Fotor
Fotor is an AI-powered image editing tool that can significantly enhance the visual quality of mobile games. With its advanced image processing algorithms, Fotor enables you to transform regular images into beautiful, eye-catching visuals. The tool provides a wide range of features, including automated image enhancement, intelligent resizing, and noise reduction. This is an essential tool for optimizing game graphics and creating stunning visuals.

For example, we instructed Fotor to generate an icon for our Phone Case DIY game. The software created the phone case with a matching paint brush below: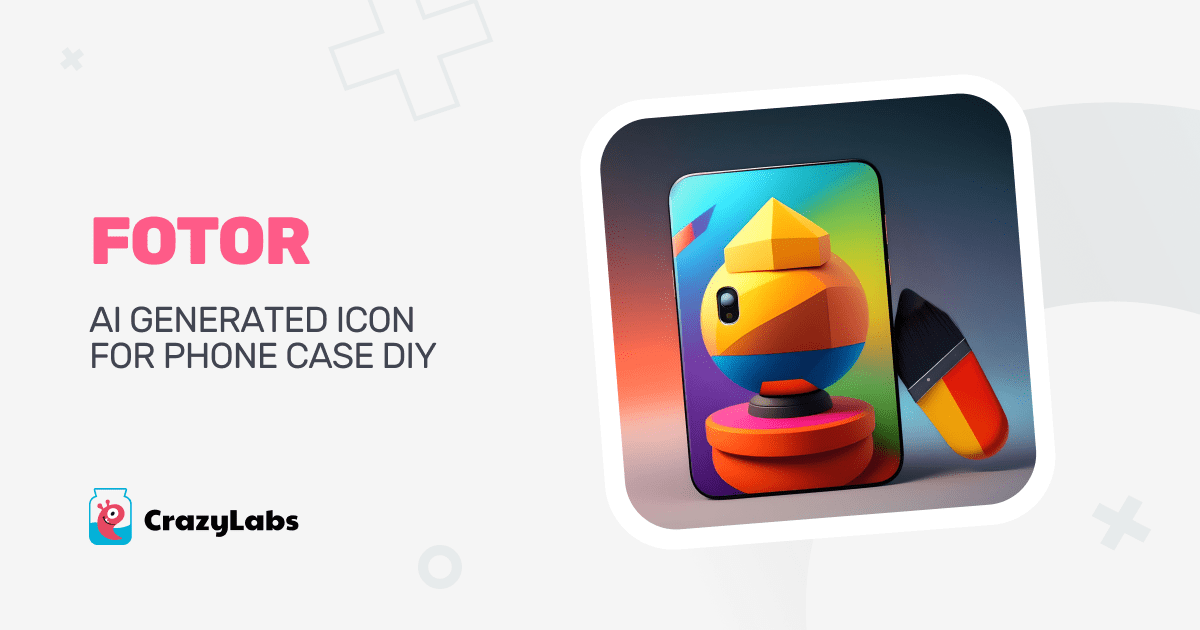 3DFY.AI
3DFY.AI is a powerful AI tool that implements "text23D" concept that allow creation of 3D objects form text prompts (referred to as text23D in the industry). It utilizes advanced deep learning techniques to analyze 2D images and generate corresponding 3D models. This tool enables game developers to rapidly create 3D fully textured and rigged 3D models. By reducing the time and effort required for 3D asset creation, 3DFY.AI can help significantly speed up the game development process.
For example, to create the below designs, we took the following steps:
We instructed 3DFY to create a unique RPG shield with a mobile phone pocket.
We then added the tie dye texture we created with Runway.
The third step was to implement the shield with the tie dye design into the Tie Dye game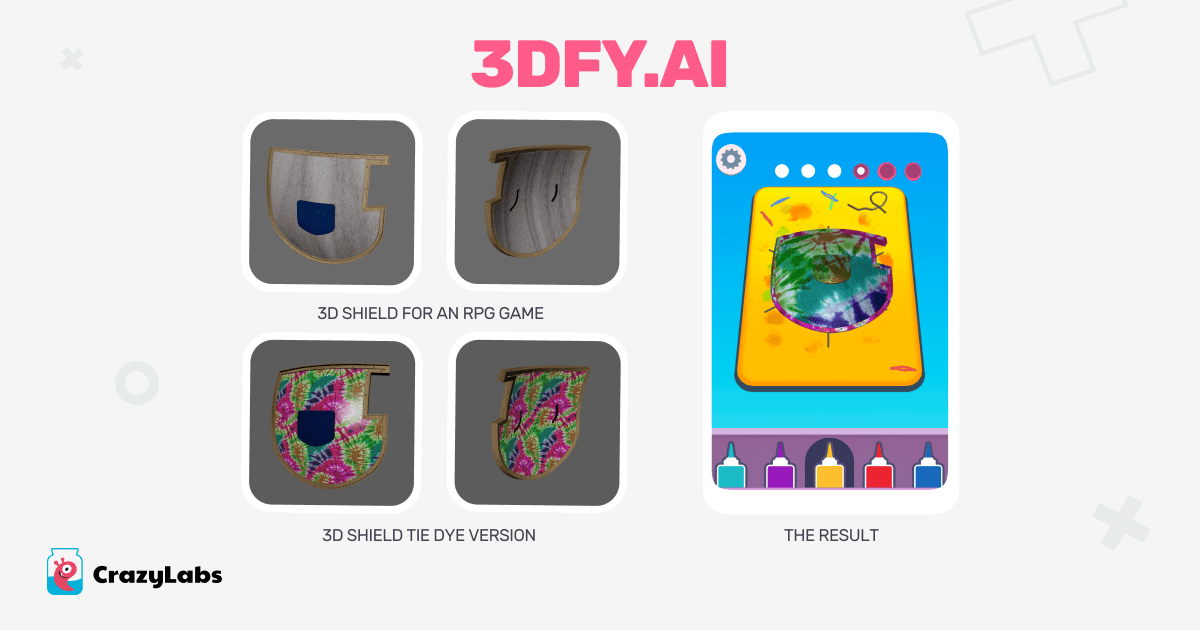 It's super important to become very familiar with the disclaimer of each of these tools mentioned  to protect yourself on the legal aspects.
Partner With CrazyLabs on Your Next Game 
CrazyLabs is a top 3 mobile game publisher and developer with over 6 billion downloads to date and over 250 million monthly active players in the hyper-casual, hybrid, and casual games space – it's safe to say that we have the proven capabilities to make top-chart games. Let's make your next game a hit, click here to submit your game.