5 Steps to Get Your Game Published
Indie game developers are always looking for publishers the same way publishers always look for indie game devs. It's a symbiotic relationship much like the birds and the bees (real birds, real bees, stay focused 😉
If you're an indie game developer and you have an amazing new game to release, here are the 5 things you need to do in order to get your game published by a top publisher:
Send the "YES" Moment in Your Game – Publishing managers review a lot of games on a daily basis, and we do mean A LOT. You need to find your "YES" moment in the game, and make sure it's visible in the first 5 seconds you play (or watch, if it's a game video). That crucial "YES" moment has to be in the materials you submit to the publisher, so the team will immediately see the potential and why you believe players will love it. You can either send your game (yes, some devs send in their APKs), or a link to your game in the stores (either Apple App Store or Google Play), or your game video – but make sure it captures the true essence of the game, the core gameplay and that coveted "YES" moment.
Find the Right Publisher – Each publisher works with different genres – find out which one works with your genre, and send your game to the right one. In order to make sure your game reaches its full potential, you have to make sure it is published by a publisher that has in-depth familiarity with the category your game belongs to. Furthermore – each publisher has its own payment plan, such as:
– Rev-share – sharing revenues from the game with the game developers based on the initial agreement signed between both sides
– Prepayment -receiving initial payment based on the game you designed & developed, with a payment plan for the entire publishing process.
– One-time payment – receiving a single payment for specific games or prototypes.
Stick to the Publisher's Format – Every publisher asks for different materials, and has different questions or requests regarding the needed info about your game. Don't be tempted to send in the same info to all publishers. Take the time to review the publisher's form or official request, find out what they need, and understand what you have to provide. This is yet another way to ensure your game will not be overlooked.
Be Patient – Reviewing games takes time. Testing new releases takes time. Publishing managers tend to get booked completely. This is where your patience plays a crucial part. If you followed all the steps we just discussed, your game can and will jump to the top of the pile, but you have to wait patiently as the publishing team plays with it, investigates similar games out there and decides how to entice you with an offer you can't refuse.
Stay Dedicated – It's your game, and it will forever be your game. Even if a publisher offers to publish it, you will be requested to stay dedicated and work closely with an in-house team to further develop your game. This can sometimes be the differentiator between a great game and a wildly successful game. Keep your lines of communication open, and your creativity channels switched on at all times – it will help you more than anything, and it will enable the publisher to get you to the top of the charts.
This, in a nutshell, is what the 5 main steps to get your game published are. Check out more details here: https://www.crazylabs.com/publishing/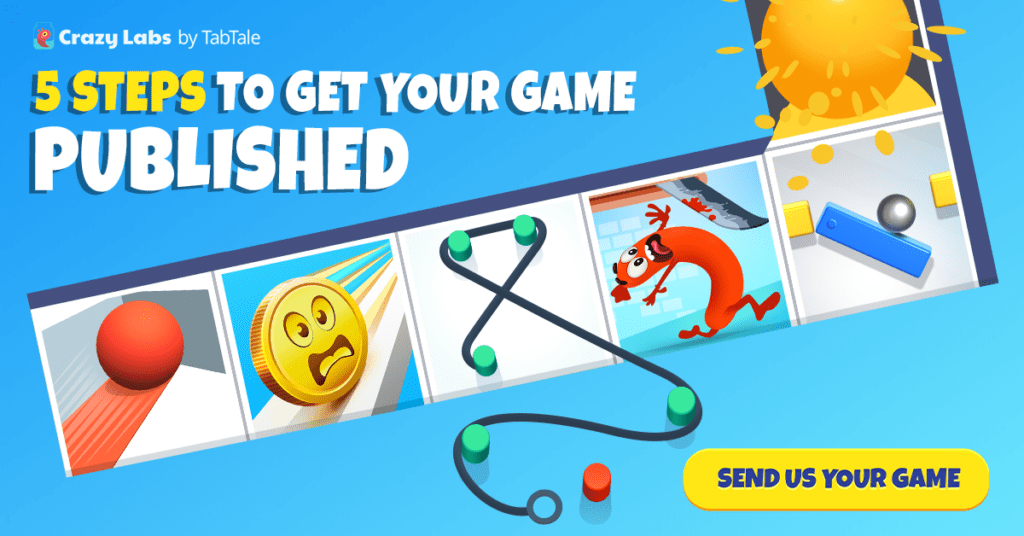 You can also learn a little bit about why hyper casual mobile games are so popular, and find out what we look for in Hyper Casual mobile games here:
https://www.linkedin.com/pulse/what-do-we-look-hyper-casual-mobile-games-yael-brown/
https://www.linkedin.com/pulse/why-hyper-casual-mobile-games-so-popular-svetlana-ivovi%25C4%2587/