The Story of Shoal of Fish
If you were a hyper-casual game that's bound to succeed, where would you hide? That's the question our publishing managers ask themselves literally on a daily basis. It's almost part of who they are, to a point that everything is a game to them, and any theme or trend can be gamified. It's not just about a creative mind or the ability to see something others don't – it's the ability to constantly challenge your own train of thought.
That ability is what brought Shai Sasson, a Senior Publishing Manager at CrazyLabs, to recognize the potential in a beautiful and endless indie game called Shoal of Fish by Yaroslav Rybak (aka Yar). "I was mesmerized by the polished look & feel of the game, there was clearly high production value, it had the right ASMR appeal and a theme that wasn't very dominant in the hyper-casual arena" Shai recalls. However, the top 1,000 game wasn't even remotely hyper, and Shai knew he had his work cut out for him. 
Initial game screenshot
A beautifully designed endless game – but with hyper potential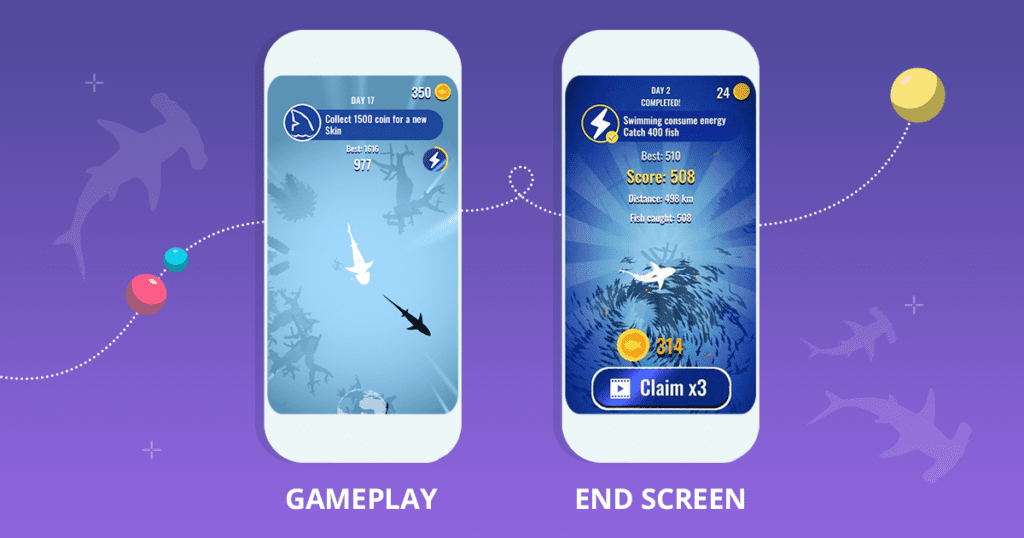 Luck has it, and he found the perfect partner for it on the other side. Yar was in touch with CrazyLabs in the past, in regards to other game ideas. He released Shoal of Fish on his own but knew that as an indie endless game, there isn't much potential for a wide success or financial reward. Furthermore, as an indie game developer, he didn't have the resources needed in order to push the game to the top of the charts. When Shai approached Yar about Shoal of Fish, Yar wasn't familiar with the rules of making #1 hyper-casual games, but was eager to learn and take his game to the next level.
The first step was to guide Yar and share our experience in hyper-casual mobile games. "I got private tutoring from the best in the business", says Yar with a smile. "Shai and the team walked me through and explained everything I need to know in order to develop a hyper-casual game. We started working on the success and fail conditions. I realized how important it is to focus on a single goal per level, and how creating satisfaction is crucial for hyper game success".
Before & After – Become Goal Oriented
A single goal, clearly defined, in 2-3 words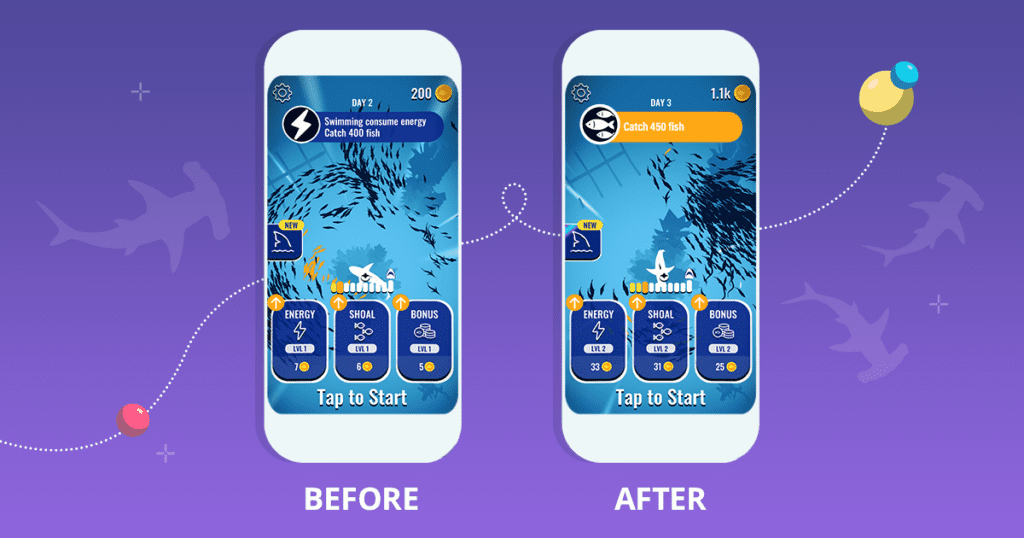 End Screen – before & after
Remember to always simplify and clarify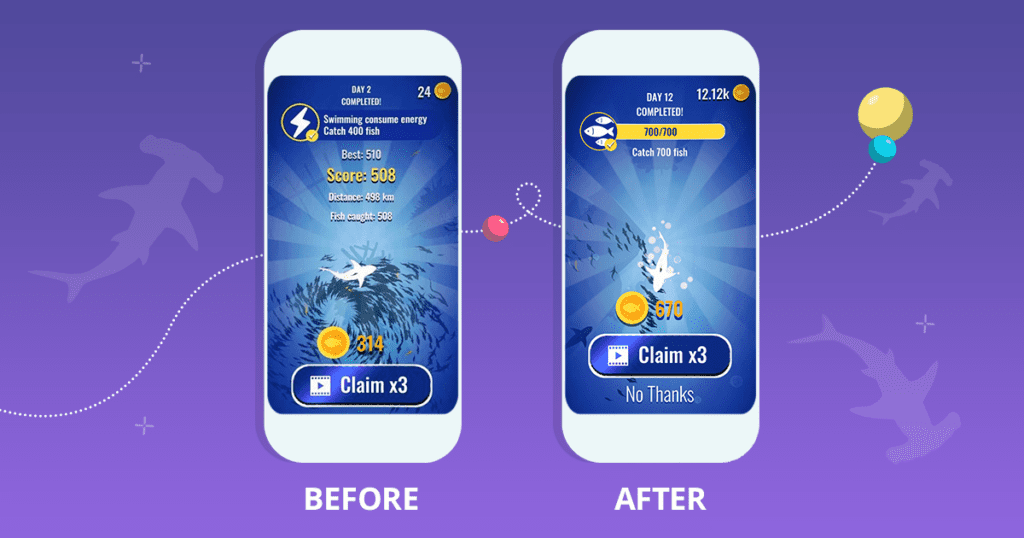 The team, experienced in teaching hyper-casual game development to gaming studios (CrazyLabs has over 350 global partners and operates a hyper-casual gaming accelerator with a training program for developers who want to learn how to create #1 hyper-casual games), pulled up their sleeves and went right in. They worked with Yar on the creation of levels and a level funnel that will make players return day after day. It's not easy to find that elusive sweet spot where the game is challenging yet not too frustrating. They helped clear the screen where needed, since there were too many details and texts, and create a better UI/UX experience for the players. Together, Yar and CrazyLabs created the WOW moment players are drawn to, and built a self-explanatory hyper-casual hit that pulls you right in within 3 seconds.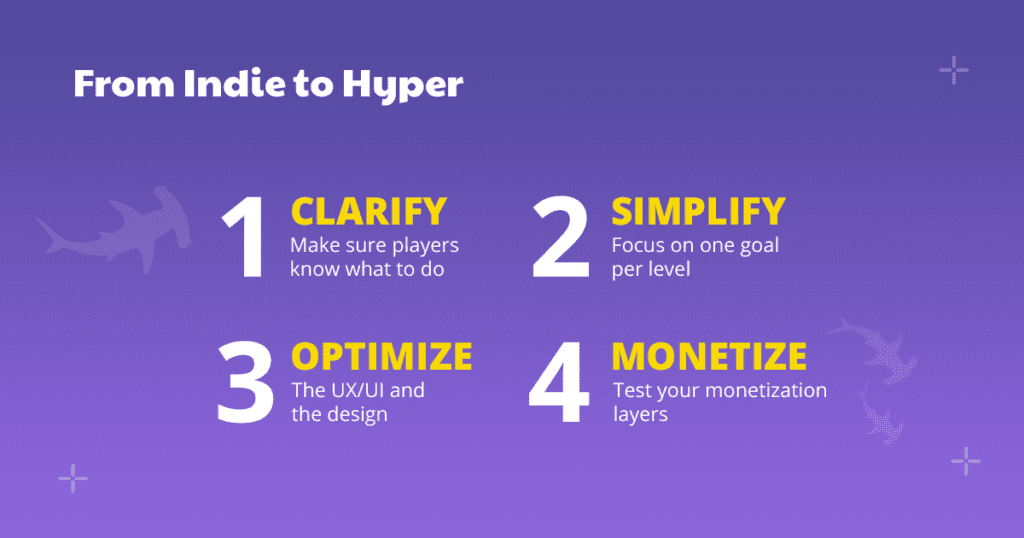 "I had a game idea that was based on consumption for energy, which made it endless for the player. Choosing the fish theme allowed me to create a beautiful layered design, and play with the dynamic movement within the game. But I didn't know how to make the game profitable" admits Yar. "CrazyLabs provided full support and showed me how I can turn my idea to a prolific game. They taught me about the core gameplay loop and the level funnel, they showed me the KPIs I need to aspire to, they helped me adopt a "hyper" way of looking at my game and provided the tools I needed. Furthermore, I got full access to the CLIK Dashboard, the self-serve platform where I could test my game, and that was a real game changer for Shoal of Fish. I was no longer working alone in my home office, I was surrounded by experts with genuine feedback that contributed to my game.
Dashboard results
CPI $0.11  D1 43%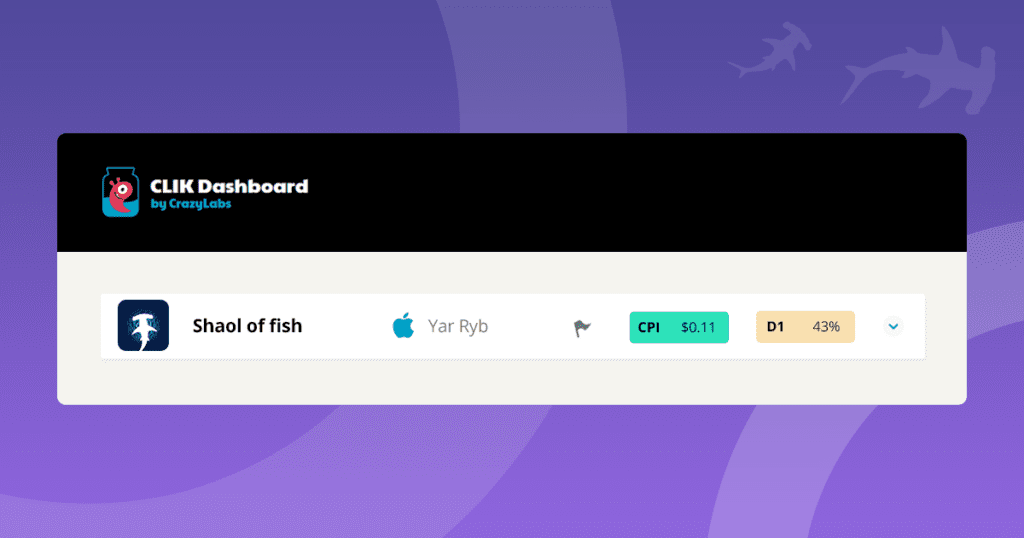 Usage
A significant increase in the number of minutes played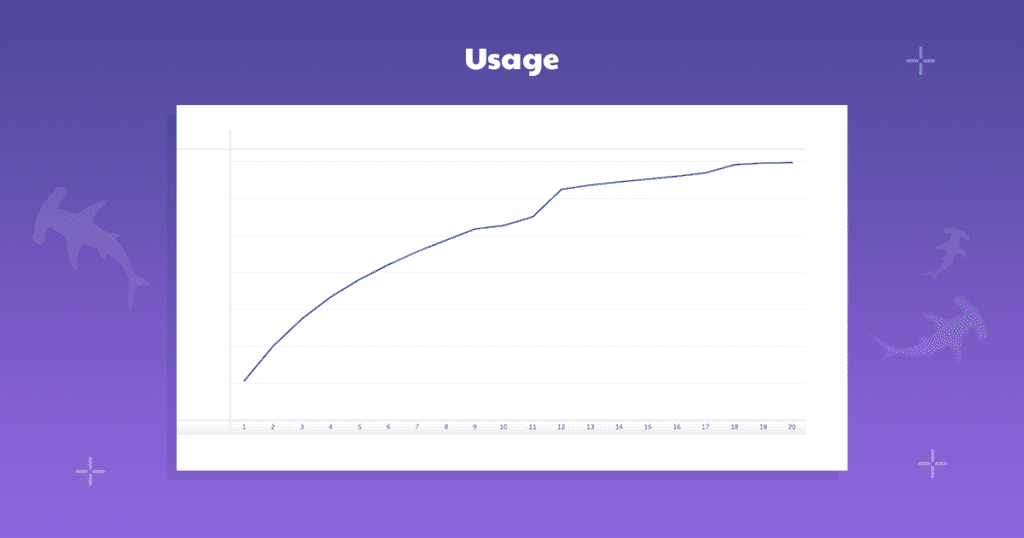 "Shoal of Fish had so much potential from the get go, and I'm really excited to see it turn into a hyper-casual hit" says Shai. "The game was already in the store, so we went directly to a CPI test. Game developers are not always sure what's the right way to go, and that's where we come in: we have our true and tested method, with our golden rules that never fail us, and with the CLIK Dashboard that gives them full control over the testing process." CrazyLabs' Growth and LiveOps teams are also integrated early on, in order to make sure games get a tailor-made monetization layer, and that it has enough depth to remain profitable for months and years to come.
From D1 38% to D1 43%
Simply by returning to the real ocean color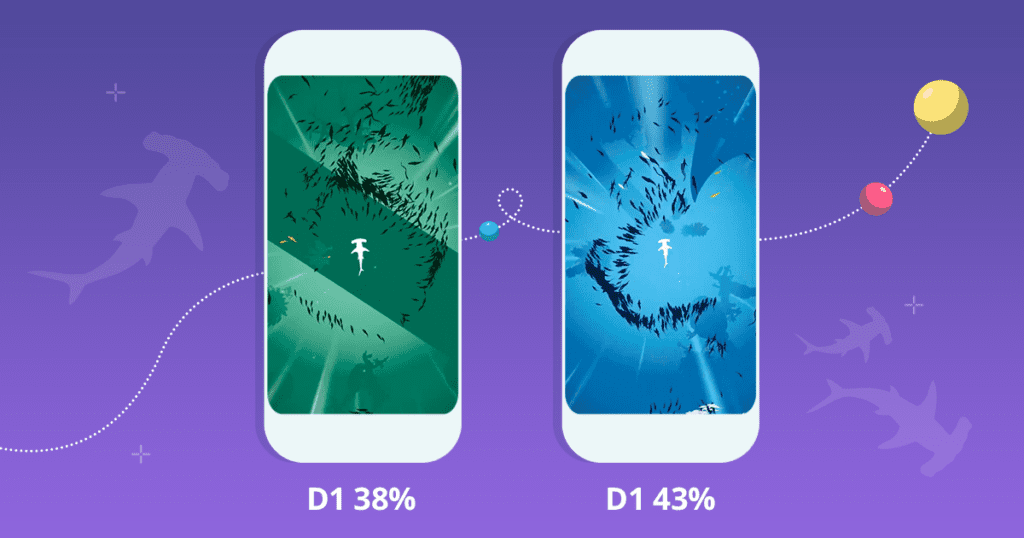 Monetization
A significant improvement in the monetization layer of the game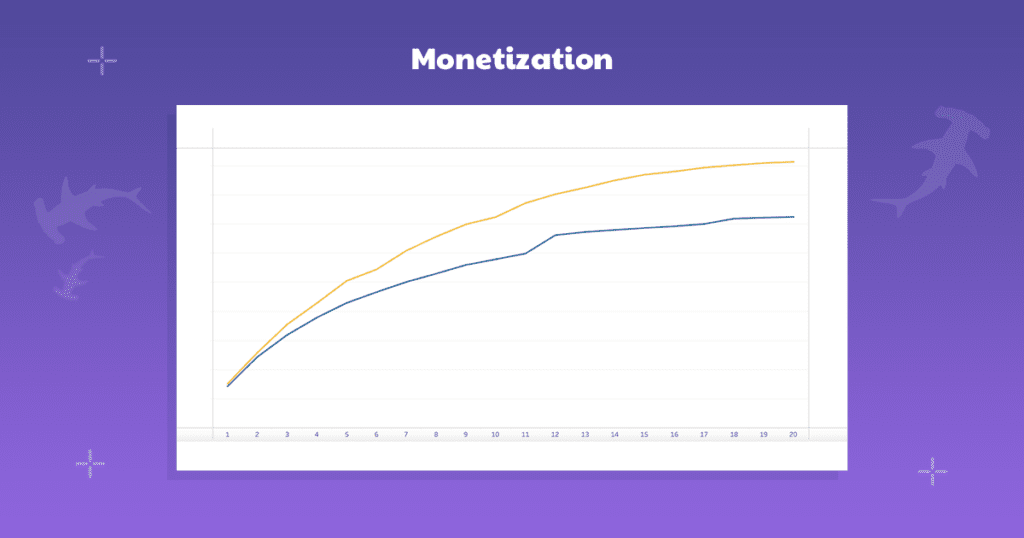 From start to end
A full level optimized in UX/UI & design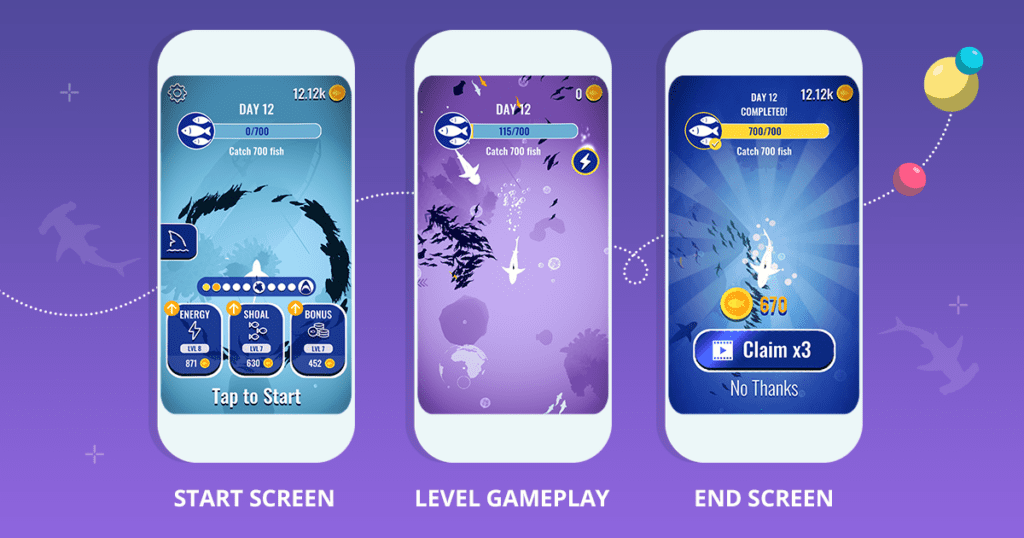 "This was a great learning experience for me" says Yar, "I finally saw how crucial it is to follow the proven models in order to succeed. When Shoal of Fish passed CPI and went to D1 tests for retention, I was excited to continue working on the game. I could see the change from test to test, the effect of small updates like the background colors ,or the success screens UI. Working with Shai and the team was positively challenging, and I'm very happy that the game passed all tests and is set for worldwide release by CrazyLabs". 
Shoal of fish is available for download on iOS