Crazy Labs introduces JoJo Siwa – Live to Dance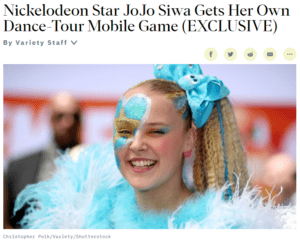 The official mobile game titled JoJo Siwa – Live to dance is scheduled for release under Crazy Labs's line of Lifestyle Games. Variety were the first to share this, read all about it right here.
This September we announced JoJo Siwa – Live to Dance, a new mobile game where fans join the Nickelodeon superstar and YouTube sensation on a multi-city dance tour. The game is scheduled for release next month and will be available soon on Google Play and on the App Store.
In JoJo Siwa – Live to Dance, fans join JoJo's team of dancers on stage and compete their way throughout the tour. Along the way, players learn various dance styles, styling tips and more in preparation for the big stage while engaging with JoJo's unique and colorful style.
"JoJo is an iconic positive role model and a perfect fit for Crazy Labs' line of Lifestyle Games. We created a whole new gameplay experience tailored to JoJo's life as a singer and entertainer that we know fans will love" says Sagi Schliesser, CEO and Co-Founder of Crazy Labs.
The official JoJo Siwa game is free to play and will be available for download later this year during the JoJo Siwa The D.R.E.A.M. Tour, so stay tuned for updates.